clink a link below or simply scroll down the page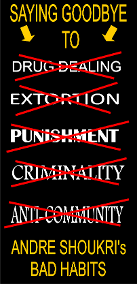 North Belfast UPRG with the full support of its membership have been implementing a number of changes in how we respectfully commemorate remembrance day in the Tigers Bay, Ballysillan, Westland and Upper Ardoyne areas. Each of these communities now arrange dignified services whereby all those who paid the ultimate sacrifice are remembered. Consultation with communities and members led to positive change in how the North Belfast UPRG remember fallen comrades. We now respectfully acknowledge those who fought and died for our freedom through two world wars and various other conflicts around the world including our own. Our services should not be viewed as sectarian or offensive, rather this is another way to which we promote a significant aspect of our culture and history
REMEMBERANCE DAY 10th November 2013
"we will remember them"
NORTH BELFAST
ADDRESS
We welcome everyone to the north Belfast remembrance service 2013.
We gather here this morning, approaching the 11th hour, to pay homage and tribute to our fallen comrades.
Those men we remember gave a solemn oath, as many amongst us did, to pledge their lives and liberty in defence of ulster,…that oath they fulfilled.
Today, we once more honour that sacrifice, acknowledge that cost, and salute their courage.
We can never forget their family & friends, who carry the burden of both pride and pain, and we should remember that they were husbands, brothers, sons, fathers and friends…as well as comrades.
Today also marks the official opening of a new granite memorial stone , dedicated to the themes of honour loyalty liberty sacrifice and loss, that provides an inclusive space where we can lay a cross or wreath to everyone we have loved and lost.
The brigade have the honour of placing the first two wreaths at this new memorial stone, and we take the opportunity to remind everyone that all other dedications can be placed at the end of the service.
We have also begun work on an ulster defence museum, as it is important that we remember where we have come from, so that we can share our journey with new generations, to ensure that our fallen, and those sacrifices and loyalty do not become forgotten.
A new remembrance mural and garden of reflection has also been commissioned for Ballysillan as well as a plaque to one of their volunteers, with a special commemorative remembrance day magazine designed to remember why those names are on our roll of honour, and why we stand here today.
On behalf of the north
Belfast
brigade, we now ask Doreen English to come up and cut the ribbon placed across this memorial garden, and to say the first words of dedication, in officially opening this new memorial stone to all that we have loved and lost.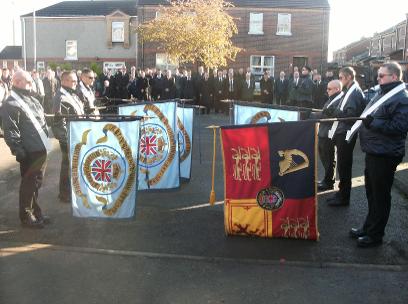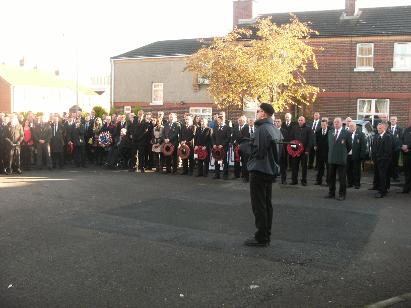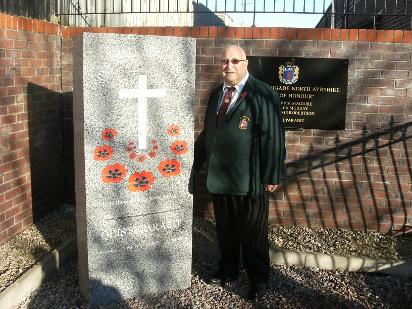 Launch of New Memorial

by Doreen English.


"I am honoured to open this new memorial stone

dedicated to the memory of absent friends and family

where we can remember all those we have lost.

Their memory lives on"
North Belfast
Remembrance Day Statement in Full

(read
by UPRG member Graham McCourt)
This year has been a particularly difficult and challenging year for the Loyalist/Unionist community, with issues around flags and parades impacting on identity.
Whilst we understand and share the concerns of the Loyalist people, and acknowledge the anger and frustration that exists, we state unequivocally there can be no space for the descent into violence, and it is important that we remain committed to democratic & exclusively peaceful means of resolving political issues.
We applaud those that have continued to work tirelessly, often at great personal risk, and subject to much criticism, in their efforts to resolve the violence which has erupted across parts of our City, and we are clear in our determination to not allow another young generation be condemned to receive conflict as their inheritance, and experience the associated costs of imprisonment and trauma on what are already diminished life prospects.
The Social-injustice experienced across our working class communities, in the midst of recession and austerity, and with what many see as inadequate political delivery, is also a concern. The UPRG have consistently made calls for the setting up of a dedicated poverty task force to address deprivation and poverty across all working class communities emerging from conflict, and it is now time to deliver.
We would like to remind everyone that the UDA have stated "you cannot be a loyalist and a criminal", and we will continue to oppose all those that would destroy our community, and damage the Loyalist cause, particularly those that would poison our young people through drugs. We should recognise that criminality itself sustains our community in the grip of poverty, at the expense of those most vulnerable.
We have also called in the past for a fully inclusive table to discuss unionist unity and a 10 year plan to
achieve this.
We believe that the Unionist Forum, which our leadership successfully lobbied for, is the only viable mechanism to achieve a unity of purpose and enhanced co-operation across the entire Unionist Family, which if used positively, can contribute to strengthening and consolidating the Union.
We support our leadership's involvement in both the Cardiff and Haass Talks; as the beginning of processes towards addressing issues around Policing, Parades, Flags and the Past, and it is important that all our views are represented in these forums.
We firmly believe that delivery on a bill of rights, something we have lobbied for since 1975 through the Ulster Civil Liberties Centre, is the only guarantor of our civil, cultural and socio-economic rights; so that we can build a peaceful, prosperous and inclusive society.
We remember our fallen comrades.
Quis Separabit
RESPECTFUL DIGNIFIED COMMEMORATION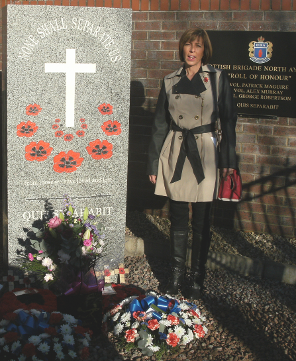 REMEMBERING ALL OUR COLLEAGUES ACROSS THE PROVINCE AND BEYOND